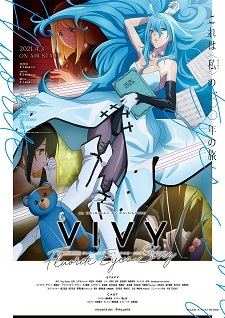 The AJ Studio special stage for the Vivy: Fluorite Eye's Song original television anime at AnimeJapan 2021 revealed three supporting cast, second key visual (pictured), and second promo on Saturday.
The first two episodes of the 13-episode original anime by Wit Studio will air consecutively on Tokyo MX, Tochigi TV, Gunma TV, and BS 11 on April 3 at 11:30 p.m., followed by Hokkaido Broadcasting, RKB Mainichi Broadcasting, Nagoya Broadcasting Network (Me-Tele), Mainichi Broadcasting System (MBS), and AT-X.
Cast
Estella: Youko Hikasa (Arifureta Shokugyou de Sekai Saikyou)
Grace: Satomi Akesaka (Akame ga Kill!)
Ophelia: Rina Hidaka (Tate no Yuusha no Nariagari)
Voice actress Atsumi Tanezaki (Mahoutsukai no Yome) is starring as the titular character Vivy, the first autonomous humanoid diva A.I in history. Jun Fukuyama (Ansatsu Kyoushitsu) is playing Matsumoto, an A.I that comes from 100 years into the future and partners with Vivy to destroy A.I.
Shinpei Ezaki (Guilty Crown: Lost Christmas) is helming the anime series with assistant director Yuusuke Kubo (Re:Zero kara Hajimeru Isekai Seikatsu - Hyouketsu no Kizuna). Yuuichi Takahashi (Hoshiai no Sora) is designing the characters. Satoru Kousaki (MONACA) (Fate/Extra: Last Encore) is composing the music.
Tappei Nagatsuki, the original creator of the Re:Zero kara Hajimeru Isekai Seikatsu franchise, and scriptwriter Eiji Umehara (ChäoS;Child) are handling the series composition and script.
PV 2
Source: PR Times